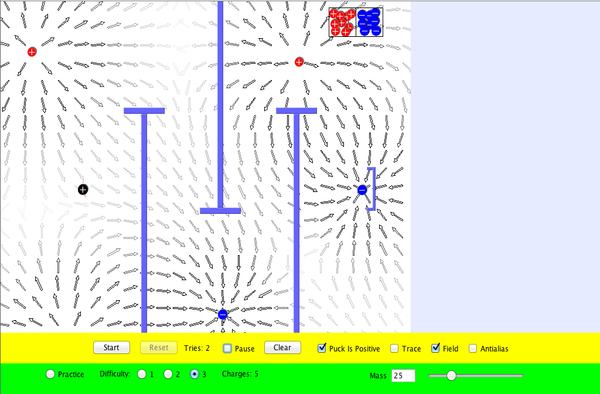 The PhET program at the University of Colorado/Boulder has been making quality simulations since the 1990s. I don't recall the exact details of when I started crafting activities around them. But I know I chose to work PhET-based activities into my Conceptual Science lab manuals because I could count on them being universally accessible, free of charge.
When PhET ported its legacy Flash and Java sims into HTML5, some characteristics of the sims changed. Some of the changes broke some of the activities I had written for the original simulations.
Original John Travoltage was more fun than HTML5 John Travoltage, in my experience. The audio seemed to be a sample from John Travolta, himself. Over-charging John resulted in a quirky form of corona discharge. Most importantly, it was possible to sustain a maximum-length discharge indefinitely. Good times. Oh, well.
Here are the activities I've written for sims involving electricity and magnetism.
Using PhET's
Capacitor Lab
sim, vary the variables that affect the electric field between charged paltes and see what happens.
Using PhET's
Capacitor Lab
sim, learn the characteristics and relationships that govern parallel-plate capacitors.
Using PhET's
Circuit Construction Kit *DC)
sim, explore various arrangements for delivering energy from the battery to the bulbs, and how some arrangements compare with the others. [This was written during the pandemic to emulate an existing in-person lab activity.]